ABOUT Juliana Daltin
Italian and Brazilian citizen, resident in Milan since 2002, where she did a Masters in Fashion Brand Management at Istituto Marangoni – Fashion School and worked for different companies in the TEXTILE field, FASHION and HOME. Mainly in the product and marketing offices..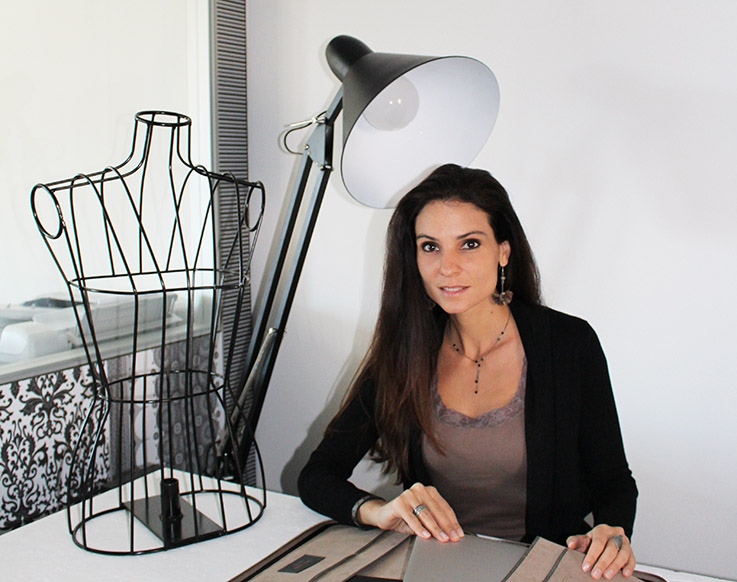 EDUCATION
2002 – 2003   Istituto MARANGONI – Fashion School – Masters in Brand Management (Milan – Italy)
1998 – 2001   FASM – Santa Marcellina – University in Fashion Design (San Paolo – Brazil)
THROUGH THE COMPANIES LISTED BELOW SHE DEVELOPED PROJECTS FOR IMPORTANT BRANDS AND COMPANIES SUCH AS :
Etro , Kenzo, Pucci , Louis Vuitton , Zara , Hugo Boss , Armani , La Perla, Calzedonia , Nina Ricci, Altea, Crate & Barrel , Ethan Allen, John Lewis, Frette , Soktas , Procter & Gamble, Wella , Boots Laboratories, Plaza Hotel New York , Four Seasons Hotels, Hotel La Scalinatella Capri, Hotel Le Meridien Dubai, Hotel Victor Miami , Silversea Cruise, The Peninsula Hotels, etc. ecc
CLIENTS & WORK EXPERIENCE IN EUROPE (2002 to present):
– MASCIONI spa (Cuvio -VA)- Textile Finishing , Prints and finished products (fabrics and home linens) .
– MANTERO SETA spa (Como -CO)- Concept Store "La Tessitura" (accessories, clothing, bags , shoes, etc.)
– GRITTI spa (Grassobbio -BG)- Fashion accessories ( buttons, pins , chains , buckles, fasteners , etc.)
– FORMA srl (Monza – MI)- Fabrics – Yarn Dyed and Jacquard (linen shirting , furnishing, etc. )
– CALVIN KLEIN Europe (Milan)- Clothing, Accessories ( showroom sales campaign )
– E. BOSELLI & C spa (Olgiate Comasco – CO)- Producer fabrics for intimates, swimwear and home ( plain, jacquard and printed )
– PUNTO COMO srl (Como – CO)- Textile Accessories ( scarves , clutch bags, scarves, ties , etc.)
– MARINAC srl (Milan)- Home linen ( bed , table and bath )
– 9 GELATO ITALIANO (Lugano)- New chain of Ice Cream , Coffee and Wine Lounge
– ERREBICASA srl (Paterno D'Adda -LC )- Home linen ( bed , table and bath )
– GIUMATES snc (Gallarate -VA)- Shirting Fabrics Consulting
– OnPointPR srl (Milan) – Textiles Gadgets for Press Releases
– MORARJEE TEXTILES LTD (Mumbai – India)- Fabrics for shirts and apparel for Men and Women
WORK EXPERIENCE IN BRAZIL (1994 to 2002)
– INDÚSTRIAS TÊXTEIS SUECO LTDA (Guarulhos – SP)– Fabric and Jersey manufacturer
– TRICOTIME (San Paolo)- Knitting (tricot) and Women's Collection
– INNOCENSE (San Paolo)- Women's Collection
– AFER (San Paolo)- Women's Collection and Custom Clothes
– FAMILY SOCKS (San Paolo)- Socks Manufacturer
COMPUTER SKILLS: Very good knowledge of graphic programs (Photoshop; illustrator, Corel Draw, etc.), Textile CADs , Windows and Office (Word, Excel, Power Point).
OTHER SKILLS
– CHAIN TEXTILE SKILLS: knowledge of fibers, yarns, fabrics, knits, socks, textile textures and their uses.
– VERY GOOD KNOWLEDGE OF TEXTILE PRINTING SYSTEMS (traditional methods and digital)
– CLOTHING SKILLS: Development of paper-model, cutting, and sewing for the manufacture of women's clothing.
PARTICIPATION IN FASHION, TEXTILE AND HOME FAIRS
Heimtextil – Frankfurt, PremièreVision – Paris, ComoCrea – Como, ProposteFair – Como, Maison&Objet – Paris, MilanoUnica – Milan, Abitare il tempo – Verona, Salone del Mobile – Milan, LineaPelle – Bologna, Bread&Butter, Pitti – Milan and Firenze, White – Milan, Formex – Stocolma, etc.
HOBBIES
Sewing clothes and textile objects for daily use, also through the reuse / recycling of materials, paint by experimenting with different techniques, swimming, biking, meditation, making and creating…